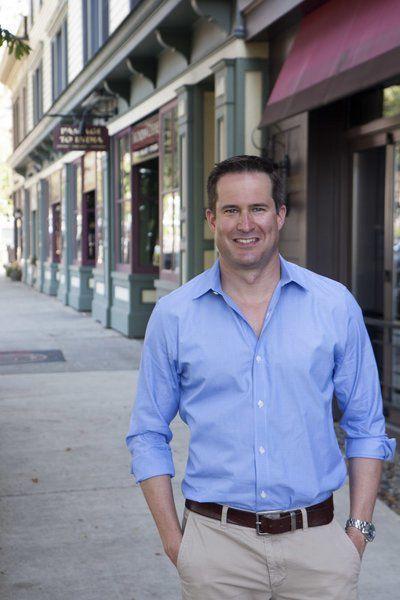 SALEM, Mass.  — Congressman Seth Moulton says he's not planning a run for president in 2020, but he does plan to head to Iowa, the nation's hotbed of presidential campaign politics. 
Moulton said the trip, to the Iowa Steak Fry fundraiser this fall, is designed to help recruit fresh faces to the Democratic Party.
The 38-year-old congressman says he wants to put his efforts into rebuilding the Democratic Party with a diverse, service-oriented crop of candidates.
Moulton, who grew up in Marblehead, has gained a measure of national attention in just his second term in the U.S. House of Representatives. The Harvard-educated former Marine Corps officer who served four tours of duty in Iraq was recently profiled by author Michael Kruse in a lengthy story for Politico Magazine. However, Moulton said he is squarely focused on turning the page on 2016.
"As you know, this has been a big effort of mine, really focused on 2018 and trying to win back the House of Representatives, and not do it with the just the same, tired old message," Moulton said.
"People want change in the party. I hear that here at home. They want new candidates, they want to deepen our bench."
"I am not running for president," Moulton said in an interview Tuesday in his campaign office in downtown Salem. "I am supremely focused on winning back the House of Representatives in 2018. That's where my energy is."
Moulton also plans to visit Indiana, where he hopes to attend the Indiana Democrats' annual JJ Dinner to talk about ways Democrats can start to win again.
"What we are really working on is getting new energy, new blood into the party," said Moulton, who has gained national attention in recent months with his pointed criticism of President Donald Trump's administration.
Moulton is scheduled to headline the Polk County Democrats Steak Fry with Ohio Congressman Tim Ryan and Illinois Congresswoman Cheri Bustos, who are also considered rising stars in the party. After the 2016 election, Ryan unsuccessfully challenged former House Speaker Nancy Pelosi for her post as Democratic leader, a move Moulton endorsed.
Moulton said his call to change Democratic leadership in Congress has not caused him any problems.
"What I hear from voters is that they want change," he said. "They want new ideas." His activism is not about the party's leadership, but about tapping into new energy at the grassroots level from new candidates and activists nationwide.
"I think that is why they are bringing back the Steak Fry," Moulton said of the event.
To that end, Moulton, a member of the House Armed Services Committee who continues to receive his health care through the Department of Veterans Affairs, has been going around the country recruiting veterans to run for Congress.
In June, he endorsed eight veterans in key districts to run in 2018 — in California, Colorado, Ohio, Virginia, Texas, North Carolina, New York and New Jersey. He plans to speak about these efforts in Iowa. Moulton said they are candidates who want to serve the country "in a thoughtful, bipartisan way."
Last year, he traveled to various states to endorse candidates. Moulton said this kind of party building sits well with his constituents. 
"When I talk to people around the district, they say: 'We want you to do this, Seth. We want you to help bring some balance back to Washington,'" he said.
He notes that Congress has never had fewer veterans serving, and at a time when Congress is so divided.
"We look at Washington today and nothing is getting done," he said. "The Republicans are in charge of everything. Everyone said: 'OK, well, if you have one party in charge, they will really be able to move things through.' They haven't fulfilled any of President Trump's campaign promises. 
"In fact, the only one they seem to be fulfilling is starting work on this wall, which most Americans know, a majority of Americans know, is a complete waste of money."
Forman writes for the Beverly, Massachusetts Salem News.