NIAGARA FALLS, N.Y. -- Lt. Clyde Doty kept telling the man clinging for his life in river rapids 100 yards from the brink of the American Falls the same thing over and over:  "We got you, we got you."
The New York State Parks officer waded into the Niagara River to hold tight the near-unconscious man until additional help arrived, urging him to keep his head above water and assuring him, "You're not going anywhere because you are a strong man."  
At 1:50 p.m. Thursday, Doty and the unidentified male were pulled to safety from the raging and frigid waters between Luna and Bird islands by a pair of Niagara Falls firefighters, completing a daring -- and at-times breathtaking -- rescue that lasted roughly two hours.
In an interview on Goat Island following the rescue, Doty described it as a "read and react" situation, the kind that required he and his fellow first responders to focus on their training and trust their instincts.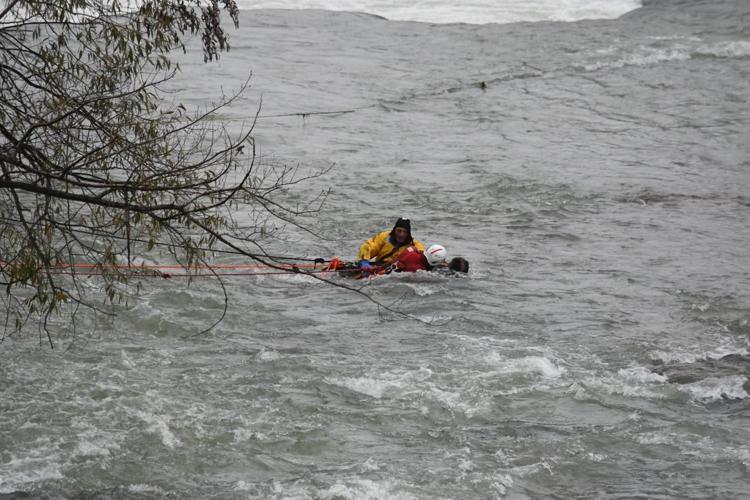 Officials are not sure how the man ended up in the river. State Parks Police Capt. Christopher Rola said the man was conscious when pulled to shore. He was taken to Niagara Falls Memorial Medical Center for treatment.
"I'm glad it all worked out," Doty said. "Everybody trains and everybody reacts and that's just what we did."
There were several desperate moments when it appeared the rescue would fail.
At one point, a pair of firefighters attached to a tether line from Goat Island managed to reach the man as he was holding in place near a set of logs just above a set of rapids farther up the river. The firefighters managed to slip a rescue collar around his upper body, but as they started to pull him in, he slipped out of the harness, slid over the set of white rapids and began floating in the direction of the American Falls.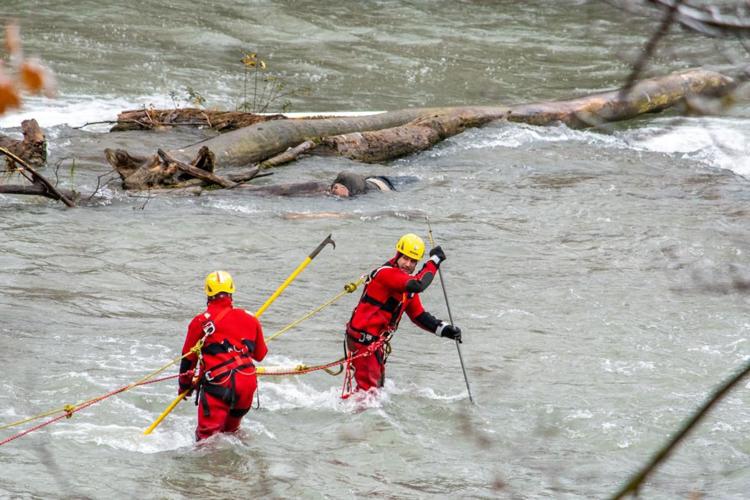 At that moment, Doty, who was downstream preparing to enter the water from Luna Island, said he heard a loud gasp from the dozens of onlookers watching the rescue unfold from Goat Island. He said the sound prompted him to speed up his preparation.
"There was a difference in that noise," Doty said, describing what he heard in the moments after the first rescue attempt failed. "We looked up and we saw him coming."
Doty made his way into the fast-moving water just in time to be in the right place at the right time. As the man floated in his direction, Doty managed to grab him and held him in place.
A firefighter on a tether who attempted to reach both of them initially slipped and fell under the water, forcing him to return to shore for another attempt.
The firefighter proceeded up the river where he was finally able to navigate his way through the rushing water and reach Doty and the man and begin the process of pulling them to shore with the use of cable lines.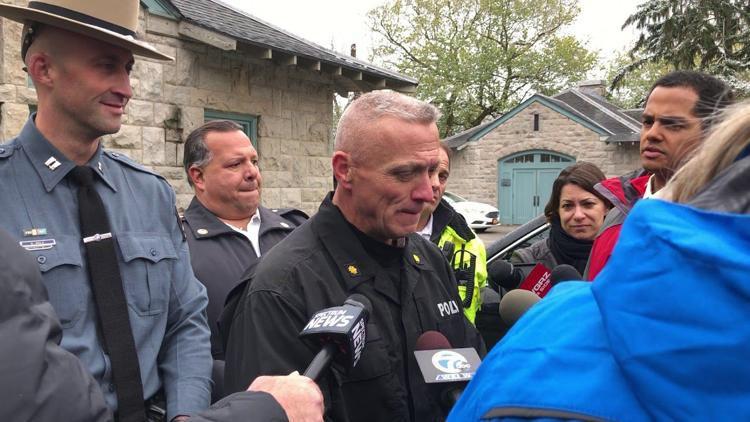 Niagara Falls Fire Chief Joe Pedulla praised Doty and the rest of the rescue crew for their bravery in accomplishing what, at times, looked like an impossible rescue. He attributed the success of the mission to their training.
"You never know when something like this is going to happen," said Pedulla. "That's why you have to be ready when it does."
Mark Sheer is a senior editor with the Niagara Gazette in Niagara Falls, New York. Reach him at mark.scheer@niagara-gazette.com.