ELNORA — Both of Daniel Chestnut's grandfathers collected tractors. His father and mother also collect tractors so it just made sense that he would follow in their footsteps.
"Tractors are kind of like potato chips. You can't have just one," said Chestnut said with a chuckle.
And the Chestnuts definitely have more than one on display at the White River Valley Antique Association Antique Show that runs through Sunday.
"We have 36 Cub Cadets here and seven big tractors," said Chestnut, as he and his parents, Ben and Becky Chestnut, as well as his daughter, Kinze, sat in the shade of their tent Thursday afternoon surrounded by their collection of tractors.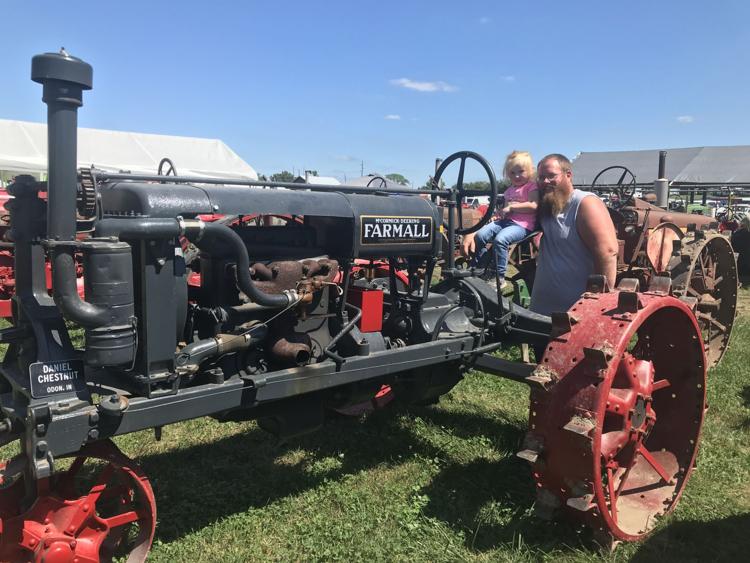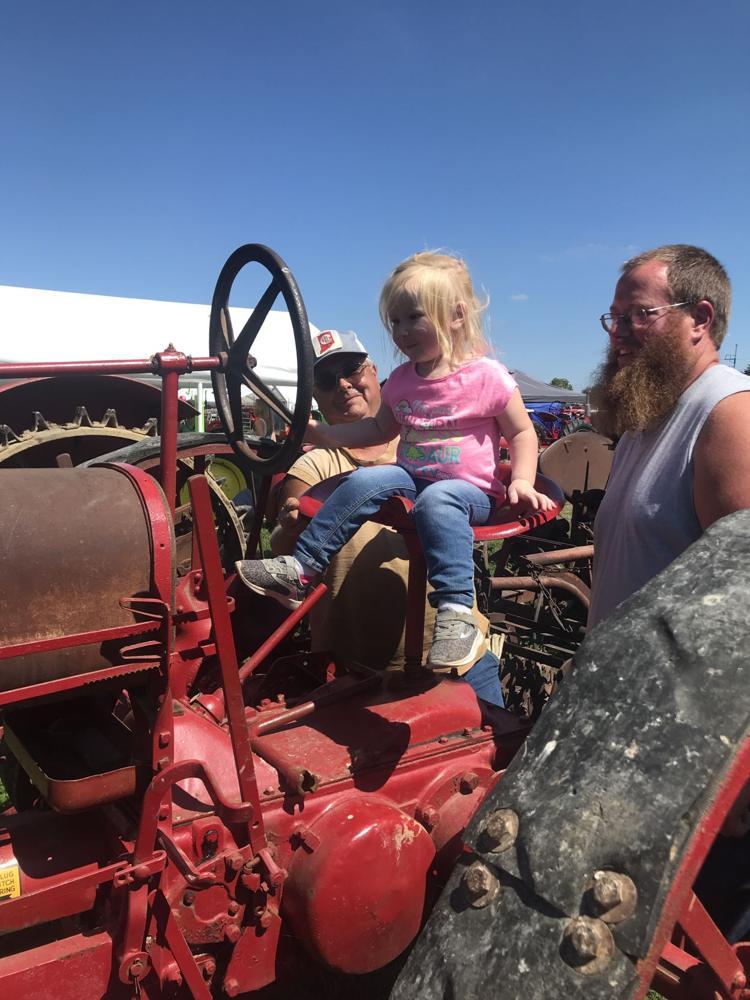 Chestnut said he started working on Cub Cadets when he was young because they were more his size. His love of the quaint yellow and white tractors has only continued to grow.
"I have one of every model from 1969 to 1979," he said, adding there are about 32 different models and many of those also have the implements. "Some are more sought after than others, like the ones with the cabs, and some come from as far away as Pennsylvania."
A few of the Cub Cadets in the Chestnut collection also came from the dealership in Odon. Others the Chestnuts have purchased at swap meets, flea markets or online. Many of the larger tractors, including a 1952 John Deere B and several Farmalls, were also passed from other family members.
Taking tractors to the antique show, which is now in its 35th year, is a tradition for the Chestnuts who live near Odon.
"In fact, Daniel was at the first show," said Ben Chestnut who said while most of the tractors on display this year belong to Daniel, his wife, Missy and Kinze, he and Becky still brought in a few of their favorites including a rare McCormick Deering W30 orchard tractor. "We think maybe there are about a dozen of them left."
Becky's father used to use one of the other tractors on display to pull around the shuttle wagons that carry visitors to the grounds from place-to-place.
The oldest tractors the family brought to the show are the 1929 Farmall Regular and a McCormick Deering road grader.
Although the Chestnut's display is quite large, Ben and Daniel are quick to point out not all of the tractors they possess made the trip from Odon to the show.
"We have a few more at home," Daniel said, adding some of the tractors on display belong to Kinze and one, a John Deere, he purchased as a wedding gift for Missy.
Those "few" tractors Ben said often draw visitors.
"We've had some people stop by to come take a look at them," he said, noting he and Daniel also often sell parts for the types of tractors they collect.
While a few of the tractors have been restored, Daniel said he's only redone one of the Cub Cadets and that's because otherwise it was difficult to tell what it was.
"They are only original once," he said, noting the family also displays several toy tractors and he hopes to pass the tradition of displaying those onto Kinze.
On the other side of the show grounds, Ray Ellis can be found with the nearly 20 tractors he brought over from Loogootee.
"I've been doing this awhile," Ellis said pointing to a hat covered in a collection of multi-colored buttons from previous shows. "I think there's about 18 or 20 of them on there."
Ellis, who brought a selection of his Farmall, Oliver, Massey Harris and McCormick Deering tractors to the show, has restored all of his collection.
"I was in the tractor repair business for about 13 years," he said. "Now that I don't have to do it, I enjoy it even more. I do all the work myself. All the mechanic work, all the painting. Everything has to be original. It has to have on it what it came off the line with."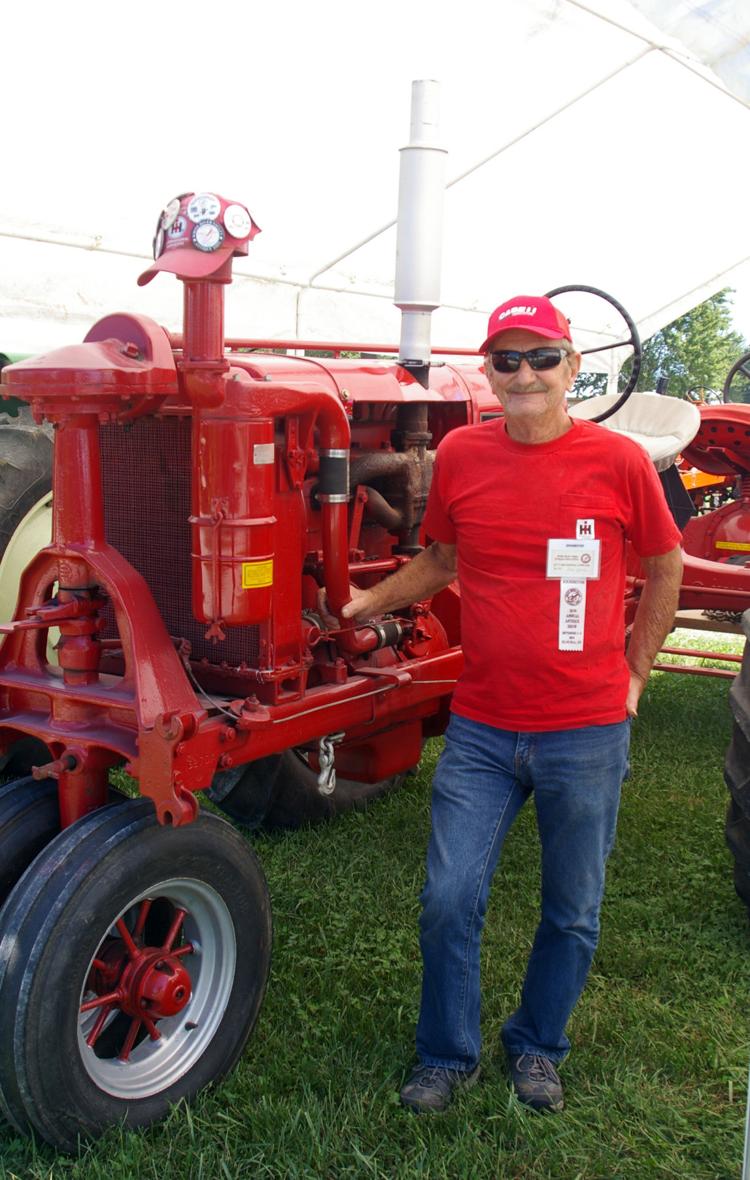 Those parts, he said, are easier to come by thanks to the power of the internet, flea markets and the like.
All of the tractors owned by Ellis, including the 10 or so that didn't make the trip to the show, have been purchased in Indiana.
"All of them I found in Indiana," he said, a wide smiling stretching across his face. "Some came from up north. Some came from the south. I've found them all over the state."
One tractor he's particularly fond of is the Farmall F-20.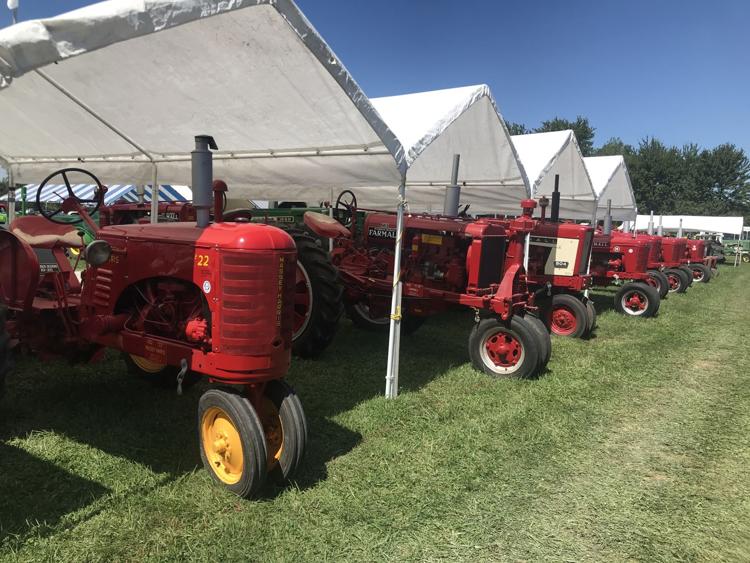 "That one set in the woods for about 20 years," Ellis said, adding the Massey Harris 22 is another favorite. "And the oldest one I brought in is a 1931 McCormick Deering and the newest is a 1967 Oliver 1550."
Restoring the old tractors not only brings a smile to Ellis, but he said he hopes will bring one to others as well.
"So many people look at these old tractors and it brings back a lot of memories for some people," he said.
The White River Valley Antique Association Antique Show, which also features a large flea market, food vendors and more, continues through Sunday in Elnora. General admission is $5 for adults.