A few snow flurries on the first official day of spring didn't keep a large crowd from the ribbon cutting at M&C Tech Indiana, a manufacturer of plastic parts for the automotive industry, and the latest business to open on Washington's east side. It was a celebration that brought Governor Eric Holcomb down Interstate 69 to check out the latest Japanese business to open in the Hoosier state.
"It's a great morning to come down I-69," said Holcomb, who said the fifth section of the interstate is expected to be finished in August, opening more opportunities along the corridor. "It's not just connecting cities. It's connecting us to the rest of the world."
Holcomb said how quickly M&C Tech, a new company, has progressed is a win-win-win.
"This is just phenomenal how fast and far you've come. This is a big win for M&C Tech, a big win for employees and a big win for Indiana," Holcomb said, adding there are 280 Japanese companies in the Hoosier state. "To take our state to the next level, we have to take Indiana to the world and bring the world to Washington."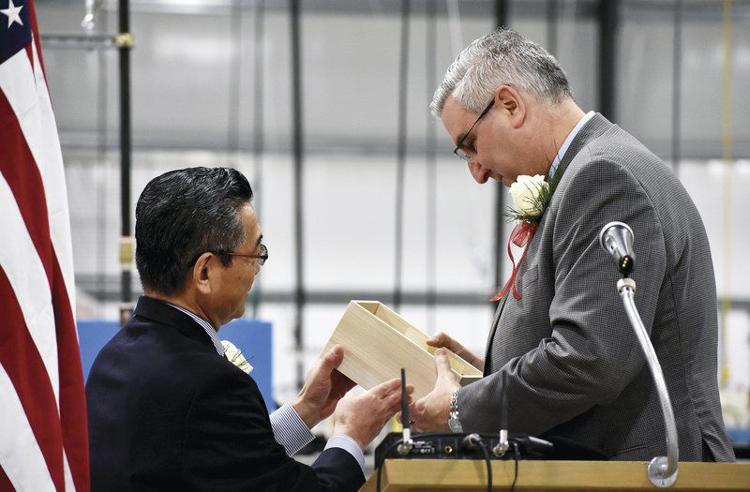 The relationship between Japanese investors and the state of Indiana is one Holcomb said has blossomed over the decades but it didn't take nearly that long to bring in Daviess County's latest manufacturer.
The journey to bring M&C Tech to Indiana started just over two years ago when Washington Mayor Joe Wellman traveled to Japan to meet with potential companies.
A joint venture between Moriroku Chemicals and Chubu Chemicals, Wellman visited the Moriroku Chemicals headquarters while in Tokyo to personally invite their officials to locate in Washington and Daviess County.
"I was meeting with them in Tokyo the same time Japanese officials were over here in meetings," said Wellman, who promoted the easy-access to I-69 as a benefit to building in the area.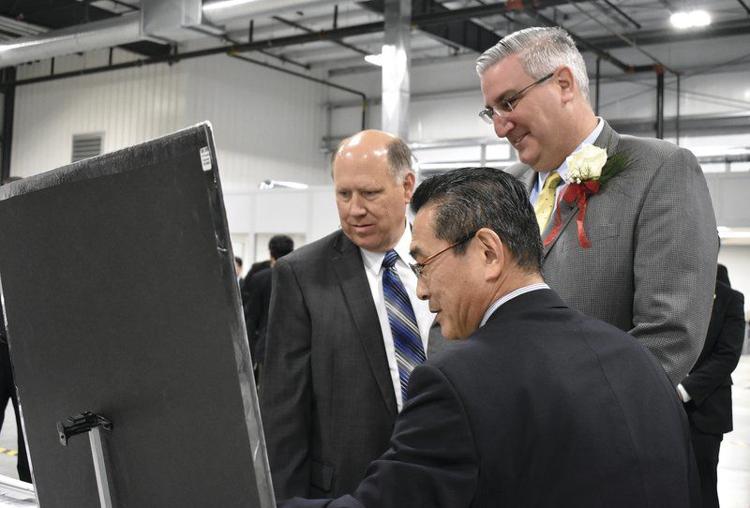 Just nine months later, M&C Tech announced its plans to build the 40,000 square-foot facility just of U.S. 50 and the interstate.
"Typically, it takes about five years to build a relationship with the Japanese," said Ron Arnold, executive director for the Daviess County Economic Development Corporation. "Mayor Wellman was able to build that relationship in about six months. This is a great example of getting people from the state and locally to work together to accomplish great things."
Wellman said the work the city has completed to bring infrastructure to the area as well as the relationships formed over the last couple of years he hopes will be a great catalyst for the growth of Daviess County community.
"Youth need to see what's going on with the business in Washington and in Daviess County," said Wellman. "After all, they are our future."
M&C Tech President Yasuhiro Ito said the facility has already started production and hopes to employ about 50 workers by the end of the year.
Also on hand for the event, which included tours of the facility and a lunch at the Gasthof Amish Village, were Japanese Consul General Naoki Ito and Ralph Inforzato, CEO of the Japan External Trade Organization or JETO.
"This company has embraced the city thanks to Mayor Wellman's leadership," said Consul General Ito, who was presented a key to the city of Washington. "I hope this is only the beginning of a partnership."
Inforzato said he would encourage the community to come tour the plant and he was also impressed by the employees.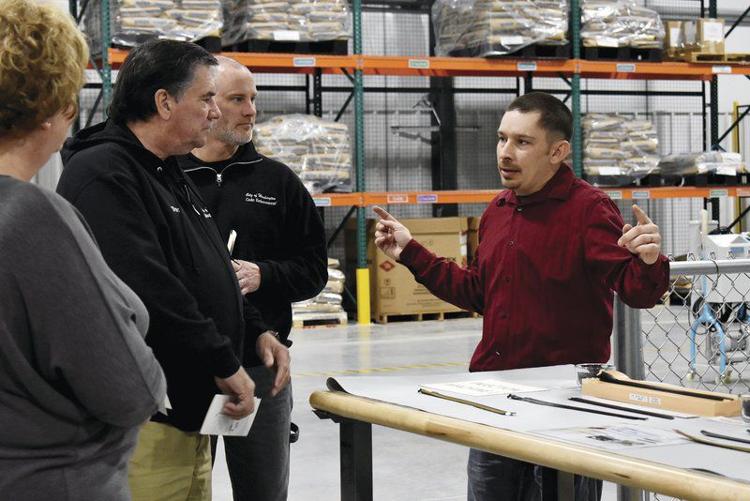 "I met almost every employee," said Inforzato, who said I-69 is a catalyst for investment. "They want to grow this company. You picked your employees well."
Dan Morehead, plant production manager, said although M&C Tech currently employs only 15 people, its production lines can produce quite a lot of product made from polypropylene.
"We have one line that can run 33 feet in a minute," he said, adding he's been with the company since July. "This is an amazing opportunity to work with some really great people."
City Councilman Mike Singleton said the company is a great addition to the community.
"Their manufacturing plant is a state-of-art facility that is producing automotive components for several car companies," said Singleton, of the first Japanese manufacturing facility to be located between Evansville and Bloomington. "They are already planning two additions to the plant and are expecting to employ up to 70 people after the third addition is complete."
Daviess County Chamber of Commerce and Visitors Bureau Executive Director Samantha Bobbitt praised the staff at M&C Tech.
"We value the relationships we are building with the owners," said Bobbitt. "We are on the ground floor of the potential growth that will take place in Daviess County and I-69 positions M&C Tech on an interstate and a national highway. They are the star to watch as they expand and hire more employees down the line. It's good in every way for our community. We want to thank them for coming here to Daviess County and we are happy to get to share this place we know as home."