Convincing Indiana state leaders to bring President Richard M. Nixon to Washington was not easy — and was not a done deal in early 1968. In fact, it was generally opposed by many. But through perseverance, then presidential candidate Nixon arrived one year today, Saturday, Feb. 10, 1968, for a rally in the Hatchet House.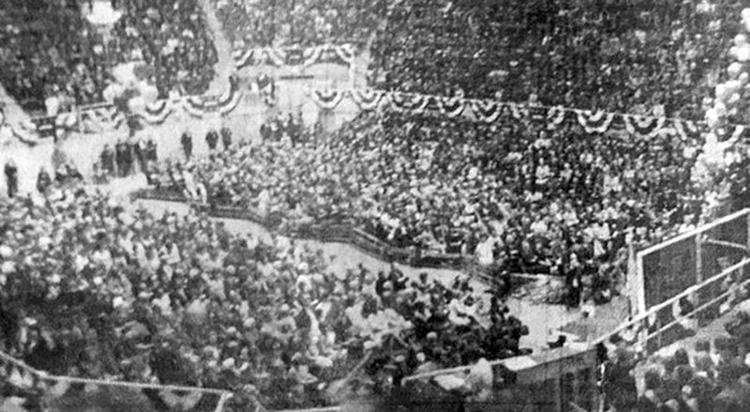 "It was a real fight to pull it off," Michael Snyder, son of John Snyder Sr., Washington native and then Indiana State Treasurer, said about his father's success in bringing Nixon to Washington, Indiana.
Today, both John, 97, and Michael, 63, live in Indianapolis, but the elder Snyder still recalls that day when Nixon came to town.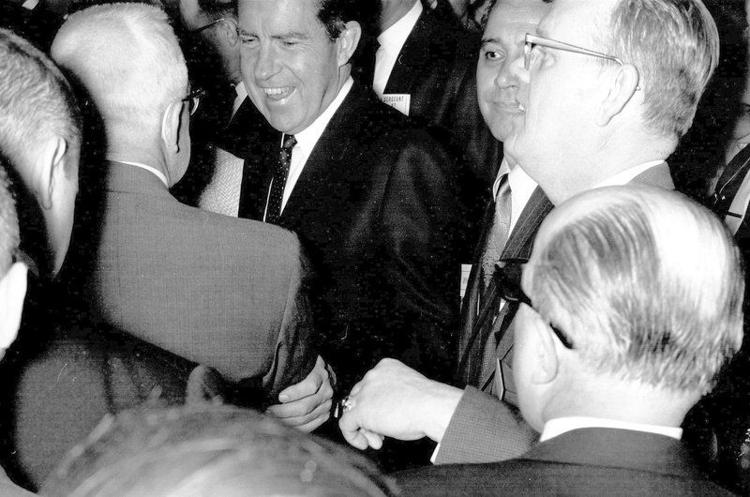 As Nixon emerged as the national front-runner in 1967, he was favorably disposed toward making an early visit to his campaign supporters in Indiana. Every Republican state leader wanted Nixon to come to their city.
Snyder wanted Nixon to come to Washington.
"He was opposed by several state leaders," Michael Snyder said. "Why would Indiana bring a major presidential candidate to a small rural town in southern Indiana?"
In 1964, the first time the older Snyder ran for State Treasurer, the entire Republican state ticket was defeated in the Goldwater presidential debacle. Even in defeat, among all Republican state candidates, Snyder had received more votes — and more cross-over votes — than any other Republican state candidate. He had garnered the attention of many.
"Before that, my father was a general unknown in state politics," Michael Snyder said. "He came up with a PR masterstroke of paying his filing fee with stacked silver dollars — he is an avid coin collector — which photo was printed in multiple dozens of newspapers in Indiana and nationally."
So immediately after that election, Snyder set to work to help rebuild the Republican Party, which suffered a stunning defeat. He planned to run again in two years because back then, the Indiana Secretary of State, Auditor of State and Treasurer of State only served two-year terms — today it is four.
"He helped coin the positioning phrase 'It's a Republican Year' and helped direct the campaigns of all the state candidates over the next two years," Michael Snyder said. "In 1966, all state Republican candidates won, and my father again topped the total vote count."
As a result of his victory, Snyder became influential in Indiana.
Following that victory, several Indiana Republican state leaders decided to back the return of Richard Nixon to national politics. After losing to John F. Kennedy in 1960, Nixon was defeated in 1962 as a candidate for Governor of California. Many then thought him finished with politics. Nixon mounted a major comeback campaign over the following years, ending up as the front-runner for the 1968 Republican nomination.
"I first met Richard Nixon together with my father in 1966 at the tender age of 12," Michael Snyder said. "Nixon was then in Indianapolis to receive formal support from several Indiana state leaders."
As a top vote-getter and a person highly involved in the 1966 comeback of the Republican Party, Snyder had become known in the media as "Mr. Republican." His popularity among voters gave him significant influence.
Over time, together with Snyder's friends, former U.S. Senator William Jennings and former U.S. Senator Homer Capehart, who lived in Daviess County, he successfully influenced state leaders to invite Nixon to speak in Washington. It would be the Lincoln Day dinners of all Lincoln Day Dinners.
"My father was fiercely loyal to Washington," Michael Snyder said. "Back in the 1950s, he helped organize and served as the first chairman of the Washington Industrial Progress Committee, an early economic development group that successfully brought several businesses to Washington and created hundreds of jobs. He was honored a few years ago by the Daviess County Economic Development Corporation for this work with the first Arthur Boddy Award. That Progress Committee later became the Washington Chamber of Commerce, which led to the formation of DCEDC."
A major entourage of the who's who of Republican politics took a train in November 1967 to New York City, where Nixon lived. Since they had decided — however reluctantly — that Nixon was going to be invited to Washington, they appointed Snyder to make the actual invitation in Nixon's penthouse apartment.
"We took a train to meet Nixon at New York City at his apartment," the elder Snyder said. "I remember we had to call to get in... We all went up there and we met with Mr. and Mrs. Nixon. We invited him to come to Washington, Indiana."
John Snyder recalls that the group discussed and deliberated for about an hour and a half before a final decision was made.
After Nixon agreed, the wheels immediately started turning for a first-class, made for-television presidential candidate visit. Robert Pickett, the Daviess County Republican chairman, did much of the preparatory work.
"A young Roger Ailes, then a rising political consultant, later the CEO and visionary behind the Fox News Channel, visited Washington to set things up, staying in our family home at 107 Green Acres," Michael Snyder said. "Our home became a planning center for the event, with many people coming and going as there was only about eight weeks from the invite to the speech, which included the Christmas/New Year holiday breaks."
A private reception was originally planned for Nixon at the Snyder home.
"Unfortunately, my mother, Stella Snyder, fell ill," Michael Snyder said. "She would die nine months later on Nov. 3, two days before my father was re-elected — collecting a record number of votes that topped even Nixon's Hoosier performance — and the reception was unfortunately cancelled. Secret Service had previously visited our home in preparation."
Nixon flew into Lawrenceville, Illinois, with his wife, Pat, before they traveled to Washington. A room was reserved in the Twilight Motel for the couple to freshen up prior to the Hatchet House event.
"My father said that he remembers that Bill Williams, one of the Williams brothers who owned Williams Pharmacy back then, and who was active in Indiana Republican politics, hosted a private reception at the Elks Club for Nixon shortly before the event," Michael Snyder said. "My father did not attend as he was finishing up details for the event."
The crowd was excited and enthusiastic, everyone cheered loudly as Nixon entered the then-unnamed WHS Gymnasium. It was the simply called the "New Gymnasium" at the time. As Nixon walked to the microphone, noise was deafening, according to news accounts.
"What we didn't realize at the time was the effect the speech would have," Snyder said. There were about 8,500 people in attendance in a gym that was made to hold 8,000.
"It was the largest crowd I have ever seen in that gym," Don Spillman, a local historian recalls of that day. "There were seats filling the court and every seat in the house was full... I don't think the fire marshal paid a whole lot of attention that day."
Spillman at the time was 19 and a sophomore at Indiana University. But he came home to visit and see Nixon's rally at his alma mater.
Nixon's successful 1968 campaign for the White House began on a platform under the south basket of the Hatchet House.
"He was in good order, very confident in front of people and knew what he was going to say," Spillman said. "He was prepared. His speech was right on line with what most people thought at the time."
As for the event itself, Spillman said it was a big deal Nixon was here.
"It was a neat experience," Spillman said. "You don't see someone of high ranking in your hometown often."
"The event itself was fantastic," Michael Snyder said. "It was a marvelous evening, a once-in-a-lifetime event."
Nixon went on to win Indiana in the May Primary and the general election in November.
"It was quite amazing," Snyder said. "He had a very strong presence and it was a thrilling experience, especially with all the media. Civic unity was put on display that day in Washington."